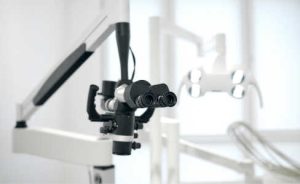 At Illuminate Dentistry, we utilize various tools, technologies and procedures to keep your smile at its healthiest. One of the tools Dr. Rachelle Boudreau or Dr. Vincent Benedetti can use is a microscope to test bacteria in your mouth for periodontal disease. If our dentists and team decide to use this tool, we will take a salivary sample from your mouth and test it for signs of the bacteria that causes periodontal disease. If you are interested in seeing the benefits of using a dental microscope in Cincinnati, Ohio, call 513-772-0722 for an appointment.
What Is Periodontal Disease?
Periodontal disease, more commonly known as gum disease, is an infection of the gums caused by bacteria found in plaque. In its primary stages, periodontal disease is called gingivitis, which is treatable when caught early. When left untreated, gingivitis becomes periodontitis, which is an advanced stage of periodontal disease.
Why Is Periodontal Disease a Big Deal?
Although gingivitis may be treatable when caught early, periodontitis can have life-changing consequences, including:
Gum recession
Tooth loss
Bone loss
It is important to seek treatment as soon as possible if you have been diagnosed with any form of periodontal disease. Our team offers a variety of useful treatments that can help you improve your oral health and treat your condition. Call our office to learn more about periodontal disease and your diagnosis and treatment options.