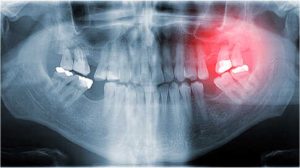 At Illuminate Dentistry, we take great pride in the treatments we provide that prevent and treat periodontal disease (gum disease). If you have been diagnosed with gum disease by Dr. Rachelle Boudreau or Dr. Vincent Benedetti, it is important that you receive periodontal maintenance treatments in Cincinnati, Ohio, to improve your oral health.
What Is Periodontal Disease?
Periodontal disease is a condition caused by bacteria found in plaque. When left untreated, it can lead to loss of teeth, gum tissue and bone tissue. Additionally, studies have shown that gum disease has an impact on your overall health as well.
What to Expect
If you have periodontal disease, our dentists and team may recommend that you visit our office regularly. You should see us once every three months to receive a professional deep cleaning, which is also called scaling and root planing. The reason for these frequent cleanings is that when the biofilm is not removed from the teeth, periodontal bacteria can grow within three to 12 weeks. By removing bacteria during these three-month appointments, our team can keep your gum disease under control.
In the scaling portion of scaling and root planing, we will remove plaque and tartar from the surface of the tooth. While planing the roots of the teeth, we will clean the tooth roots, smoothing them to remove bacterial toxins.
To schedule your periodontal maintenance, please set up an appointment with our team at 513-772-0722. We look forward to caring for your smile.