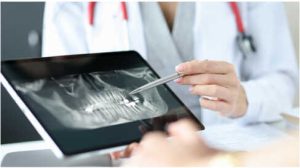 Dr. Rachelle Boudreau, Dr. Vincent Benedetti and our team are committed to providing high-quality dental care that is safe and effective. Our team at Illuminate Dentistry utilizes digital X-rays as one of our most useful diagnostic tools.
What Is the Difference Between Digital and Traditional X-Rays?
One of the benefits of digital X-rays is the low level of radiation that is used. Unlike traditional X-rays that use film, chemicals and higher levels of radiation, the digital X-ray uses a digital sensor to take images of your teeth safely and quickly, exposing you to less radiation. Because the process is digital, our dentists and team can immediately view the high-quality images of your teeth and create a treatment plan that caters to your unique needs.
What Can a Digital X-Ray Show?
Digital X-rays are useful in providing our team with a complete image of your teeth and supporting structures. With this diagnostic tool we can check your smile for the following problems:
Decay between the teeth
Developmental abnormalities
Poor tooth root positioning
Cysts and abscesses
Fractures in dental fillings
Tumors
Infections in the nerves of the teeth
Bone loss
Our team can use the results of your X-ray to plan oral surgery, a root canal treatment, dental implants and orthodontic treatments.
If you have any questions about getting a digital X-ray in Cincinnati, Ohio, call 513-772-0722 to speak with one of our team members.